Biohazard & Hazardous RCRA Waste Solutions In Delaware Compliant & Affordable
Delaware hazardous waste disposal, for all your Delaware RCRA hazardous waste and biohazardous waste (sharps waste and medical waste disposal) BWS of Baltimore, Maryland provides environmentally sound, compliant and cost-effective solutions in Delaware.
Our RCRA Hazardous Waste Services Are Customized to Your Needs
Biomedical Waste Services provides comprehensive Delaware hazardous waste disposal solutions designed to fully comply with applicable Federal and State regulations.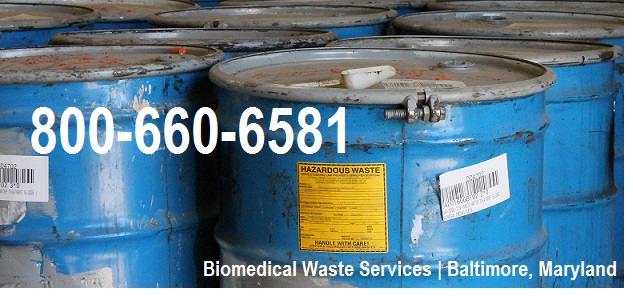 While running your company, you may find that you generate RCRA Hazardous waste.  This waste will need to be disposed of properly in order to meet certain regulations.  Because of this high level of importance, it is wise to trust a professional to do the job.  BWS provides the most affordable hazardous waste removal services in Delaware.
RCRA is the Resource Conservation and Recovery Act and governs the management of hazardous wastes.  The RCRA maintains a continuously evolving list of materials that are considered hazardous waste.  The EPA is in charge of the list and uses several means of classification to determine what is added. With Biomedical Waste Services our hazardous waste disposal services will minimize your long-term liability, complement your green goals in Delaware and minimize your costs. When removing Delaware RCRA hazardous materials, we'll work with your team to develop a customized hazardous waste disposal solution that meets your facility's objectives and requirements.
With BWS we have the RCRA Hazardous waste knowledge in Delaware with the customer centric approach you are looking for!
Whatever type and quantity of hazardous waste generated in Delaware, we know how to dispose of it properly and economically. Our lab-trained personnel can provide onsite conditions review. Our services include, but are not limited to the following in Delaware.
Delaware Waste Reduction and Management
Waste profiling, characterization and consolidation
Identification of unknowns
All shipping papers, documentation and manifesting, including distribution to all regulatory agencies
Packaging, labeling and marking of DOT certified containers prior to transportation
Stabilization of reactive chemicals prior to transportation
Transportation to permitted treatment, storage and disposal facility
Electronic tracking of all regulated waste activity
Final treatment and disposal, including Certificates of Disposal
Client Management Reports