Regulated Biohazard Waste Regulations
Medical Waste Disposal | Biohazard Waste Disposal | Sharps Waste Disposal
Biohazard Waste Rules | Regulations | Management By State
---
Looking for Biohazard disposal regulations in your state?
Pharmaceutical Resource Conservation and Recovery Act (RCRA)
More than 30 years ago, the Resource Conservation and Recovery Act (RCRA) was enacted to protect human health and the environment from the potential hazards of waste disposal – and to ensure that these wastes would be managed in an environmentally responsible way. Today, there are increasing concerns about the disposal of all drugs.
Pharmaceutical regulations are being revised in a number of states to tighten drug disposal options. Pharmaceuticals in the waste stream Hazardous & Non-Hazardous pharmaceuticals 

 can pose many different types of risk. One of the most is that the active ingredients in a discarded drug could act on an unintended target. But other ingredients in pharmaceutical formulations can present hazards: Pharmaceutical Waste Characterization – Is the first step for proper managing, using a permitted company can help provide a comprehensive review of hospital pharmacy products and compounded formulas. Formulary characterization accurately determines EPA, RCRA, and DOT requirements for each National Drug Code (NDC) product. Pharmaceutical waste characterization is particularly critical for chemotherapy agents, U-listed and P-listed hazardous waste. End users more than ever before people need to understand the problems involved with managing pharmaceutical waste in compliance with OSHA, DEA, RCRA and state regulations.
How We Manage Regulated Biohazard & Medical Waste
Medical healthcare centers, hospitals veterinary clinics and plenty more in the United States generate over one million tons of waste each year. Although the majority of this waste is as harmless as common household waste, as much as 15 percent of this waste poses a potential infection hazard, according to the Environmental Protection Agency (EPA). Medical waste, also referred to as clinical waste,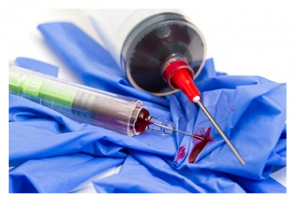 has to be handled and disposed of in a proper manner to reduce the possibility of injury or infection. Federal and state laws govern the disposal of medical waste, mandating specific methods to either package or sterilize the waste so that the waste does not affect people, animals, or the environment in negative ways.
Like hazardous waste, medical waste can pose danger if exposed to the general public or environment in an untreated form, handling medical or biohazard waste read more 

? Different types of medical waste pose different risks. Engineers, scientists, and industrial hygienists have some up with a variety of methods to process medical waste. The design process takes into account the expected nature of the waste; one or more treatments can be applied before ultimate disposal.
Waste generators are grouped into two categories: Small Quantity Generators (SQG) and Large Quantity Generators (LQG), based on the amount of medical waste produced monthly. LQGs produce at least 200 pounds per month; they generally are nursing homes, clinics, health departments, or laboratories. Physicians, dentists and veterinarians in private practice are more often SQGs.
Biomedical Waste Treatment & Disposal
There are different methods companies use to treat medical waste before it can be disposed of. Medical waste is required to be rendered non-infectious before it can be disposed of. This is very important for the health and safety of everyone who many come into contact with the waste.
There are several different methods to treat and dispose of biohazardous waste read more

United States primary methods for treatment and disposal of biohazard, medical and sharps waste may include :
Incineration

Autoclaves

Mechanical/Chemical Disinfection

Microwave

Irradiation
Biohazard & Sharps Waste Definitions
The Medical Waste tracking Act of 1988 defines medical waste as "any solid waste that is generated in the diagnosis, treatment, or immunization of human beings or animals, in research pertaining thereto, or in the production or testing of biologicals." This definition includes, but is not limited to :
blood-soaked bandages

culture dishes and other glassware

discarded surgical gloves

discarded surgical instruments

discarded needles used to give shots or draw blood (e.g., medical sharps)

cultures, stocks, swabs used to inoculate cultures

removed body organs (e.g., tonsils, appendices, limbs)

discarded lancets
Different types of biohazard medical waste may require different forms of treatment. For example, pathological waste human tissue may have different disposal requirements than blood soaked bandages in your state. Non-hazardous pharmaceutical waste is quickly becoming regulated due to environmental concerns and states have started requiring different disposal methods. See this guide explaining the different forms of medical waste

.
While these definitions served as the foundation for many of the state definitions and regulations, each state may vary in what is considered medical waste. Make sure to check your state's regulations to ensure proper disposal regulations are being followed.
Sharps Needle Waste From Home Use
Sharps needle waste

 from individuals providing medical care in their own residence is different than medical practices or public collection containers and is not subject to the same requirements in most states. This does not mean, however, that individuals do not have to properly dispose of needle waste.
Coffee cans, plastic bottles (such as milk containers, laundry detergent bottles, pop bottles) and other non sharps containers are not certified to be puncture proof and should never be used to dispose of needle waste. Recommendations to dispose of needle waste in this manner should be considered outdated as it does not provide any protection to workers who many come into contact with them in their jobs.
Some states will allow home generators to dispose of needles, in a certified puncture proof sharps container, along with the regular municipal trash pickup. Other states require home generators to have needles properly disposed of by a medical waste company. Mail back kits are the most common way to to achieve this way of proper disposal is is recommend for all home generators.